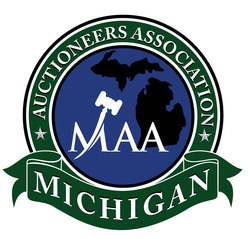 UPCOMING AUCTIONS
Scheduled Saturday Night Auctions (November - April)
NOTICE: All items sell "As Is" "Where Is" with no warranties expressed or implied.
Announcements at the auction will take precedent over any printed material.
We accept cash, credit card, and checks (checks from established local customers only).
All items must be paid in full the day of the auction and before any items leave the premises. Any items not paid in full before leaving the premises will be considered theft and prosecuted to the full extent of the law.
- PLEASE NOTE -
Pictures of each auction are posted online when we set up (the week prior to the auction date).
ANTIQUES - COLLECTIBLES - NICE HOUSEHOLD - COINS - FISHING & HUNTING
GIVE US A CALL IF YOU HAVE SOMETHING TO SELL!

---
---
Saturday, April 29, at 5:00 PM - Big Auction, 2 Rings!
ANTIQUES, COLLECTIBLES, HOUSEHOLD & MISC.
Hunting Knives: Vintage Field & Stream Combination, USA Bowie Knife, Imperial, Olsen, US Army Bayonet, Large Old Timer, Queens Knife-Ontario, Western, and more;
GI Joe Activity Box-1965, Lead Toy Soldiers, 33rpm Records-1960's-70's, Kerosene Lamp, Cigarette Floor Model Ashtrays, Yellow Emergency Lights, Casters, Marbles, Ceiling Fan, Auto Racing Programs, Tricycle, Cast Iron Wagon, Jack Knives, Elephant Bank, Old Clamps, Mickey Mantle Baseball Game-old, 130+ 45rpm records, Box Lots, Old Maps/travel brochures, Metal Toy Race Car, Wooden Arrows, Craftsman Thermometer, Duck Decoy, Reference Manuals, HS Jacket, Makita Cordless Drill-works, 12+ Vintage License Plates, Pfeifer Beer Bottle w/ box, TONKA Fire trucks, Wyandotte Vintage toys, Hubley, IDEAL, Tootsie Toy, Ertl Tractors, Case Toy Tractors, Farmall Toy Tractors, Spec Cast, John Deere toy tractors, Louis Marx Tractor, 1994 FFA Tractor, Lumar, Brewery Signs, Pepsi Clock, Camel Clock, Brass Music Stand, Hitachi Cut-off Miter Saw, Meat Saw, Tree Saw, Fly Rod w/ case, Crock, Vintage MegaPhone, Lawn Sprinklers-NIP, Ice Fishing Seat, Coleman Lanterns, Sped Limit sign, Old Violin w/ case, 30 Watt Solar Panels, Ice Saw, Coke Wooden Soda case, Old seeder, Electric Fireplace w/ remote, and so much more!
COINS
Coins: 100 years of historic USA Nickels, 1950 US 5 Dollar Bill, 1968D MS66 Dimes, Mint Sets, Morgan & Peace Silver Dollars, Westward Gold Edition, 1849 US Big Penny, Indian Head Pennies, 1920S Walking Liberty, 1969-D US Mint Set, Old Silver Quarters, 1865 2 Cent Piece, Barber Quarters, 1899O Morgan Silver Dollar, 27 Mercury Silver Dimes, Bag of 1800 old coins, US Proof Sets, USA 3 Cent Piece, Barber Dimes, Mint Sets, and so much more!
SPORTS CARDS
Baseball Cards: 1957-Red Schoendienst-Richie Ashburn, 1961-Early Wynn-Ed Mattthews-Harmon Killebrew, 1962-Frank Robinson-Duke Synder, Bob Gibson, Kirk Gibson-Rookie Card-Cal Ripkin, Mark McGwire, Carlton Fisk -Rookie Card, Eddie Murray-Rookie Card, Don Mattingly-Rookie Card, and many more!