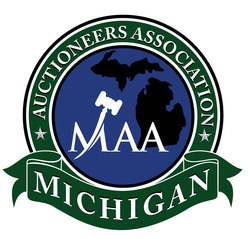 UPCOMING AUCTIONS
Scheduled Saturday Night Auctions (November - April)
NOTICE: All items sell "As Is" "Where Is" with no warranties expressed or implied.
Announcements at the auction will take precedent over any printed material.
We accept cash, credit card, and checks (checks from established local customers only).
All items must be paid in full the day of the auction and before any items leave the premises. Any items not paid in full before leaving the premises will be considered theft and prosecuted to the full extent of the law.
- PLEASE NOTE -
Pictures of each auction are posted online when we set up (the week prior to the auction date).
ANTIQUES - COLLECTIBLES - NICE HOUSEHOLD - COINS - FISHING & HUNTING
GIVE US A CALL IF YOU HAVE SOMETHING TO SELL!

---
---
Saturday, January 21, 2017 at 5:00 PM
ANTIQUES, COLLECTIBLES, HOUSEHOLD & MISC.
Costume Jewelry & Watches; Couch; (2) Straight Back Hand Caned Wooden Chairs; Small Wood Rocker w/Pads; Swivel Rocker; Wooden Quilt Rack; Brass Table Lamp; Binoculars; Linens, Baking Dishes; Replacement Coffee Pot (NEW); Retro Percolator 1970's; MARX Mechanical Train Set (Missing Key); Comic Books; Spring Form Baking Set; Cook Books; Serving Trays; Record Stand; Scrapbooking & Crafting Supplies; Trivet; Clip on Desk Lamp; Decorative Clock; Vintage Planters; Handpainted China Set w/Serving Tray – Austria; Japan Figurines; Lefton Birds; Mid Century Modern Chalkware; Inspirational Plaques; Stain Glass Butterfly; Pictures & misc. Home Décor Items; Signed Watercolor and Framed Art; Champions Tin Sign; Art Glass Items; Vintage Needlepoint; Quilt & Shams; Decorative Pillows; Asian Doll – Shotgun Warrior; Asian Doll – Geisha; Asian Lacquered Folding Screen; (3) Jars of Marbles; VW Toy Car; Bank; Lustreware Items; Uncle Sam Cast Iron Bank; Campaign Shirt & Button – Jimmy Carter 1977; Bookends "The Thinker"; Antique Eye Wash Cups; Vintage Baby Rattles; Toy Singer Sewing Machine w/Original Box; Gofun Asian Doll in Glass Case; (2) Antique Oil Lamps; Rare Psycho Mug; Box of Vintage Fabric & Lace; Curio Case; Fiesta Cups & Saucers; Disneyland Illustrated Books w/ Records; Vintage Record Albums – Buddy Holly, Tommy James, Elvis & More; (2) Vintage Record Cases; Old Doll/Baby Hats & Bonnets; Vintage Framed Print of Chicago (early 1900's); Antique Wood Baby Stroller; Small Cast Iron Pans (clean); Antique Pottery; Beatles Poster; Volkswagen Advertising; Dog Statue; Horse Statue; Decorative Bird Cage; Bird Houses; Lawn Ornaments; (2) Sports Card Folders Containing Over 500 Cards Each; Numbered Rookie Graded Card Mike McMahan; Some Older Post Cards; (9) Older Detroit Lions Cards; Detroit Tigers Cards; Joe Montana Cards; Team Set of 1920 Cleveland Indians World Series; Several Team Sets of Tigers & Cubs; 1969 Lem Barney Football Game Piece; 1985 Tigers Team Set; 1970's Baseball Stars Johnny Bench, Tom Seaver and More; Keyboard; Radio; Family Bible; "Legends of The Game" Baseball Cards w/Babe Ruth, Ted Williams, & Jackie Robinson; Some Older Toys; Several Purses; Four Slice Toaster; Decorative Ball; Beads for Crafting; and more when we start unpacking!

Saturday, January 28, 2017 at 5:00 PM
ANTIQUES, COLLECTIBLES, HOUSEHOLD & MISC.
Coca-Cola Collectibles, Decorative Pillows, Linens, Leather Bag, CDs, Herb Jars, 8-Track Tapes, Scarves, Chicken Lamp, Cast Aluminum Pans, Old Rotary Phone, Coca-Cola Wooden Tray, HP Printer, Ceiling Lights, Paper Cutter, Tootsie Toys, Fishing Tackle and Boxes, Tonka, Tools, Pry Bar Set NIB, Toy Army Men, Glue Gun, Stoneware, Stadium Seat Cushions, Newco Coffee Maker, Fishing Thermometer, McDonald's Cookie Jar, Drama Masks, Marbles, NASCAR Clock, Boot Dryer, Glassware, Cigarette Lighters, Chicken Figurines, Decanter, Watches, Elephant Figurines, Toolboxes, Gulf Oil Can, Chilltons & Mitchell Car Manuals, Ammo Boxes (empty), Barbies, Hunting Items, US Military 1943 Canteen, Old Stamps, Stamp Books, Comic Books, 1938 Metal Cross, Brass Horses, Michigan License Plates (1920, 1914, 1950, 1951, 1952, 1948, 1938 and more), 200+ 45 RPM Records, Old Cereal Premium License Plates, US General Motorcycle Toy, Crossman BB Gun, Elk Statue, Duck Carving, 12ga and 16ga Ammo, Big Shot Clock, Ohio Art Globe, Crosscut Saw, Mirrors, Vintage Yearbooks, 1932 Michigan Chauffeurs Badge, Military Patches, Sparta Items, Small Library Table, Detroit Tiger's Annuals, Sports Magazines, Collector Books, Kitchenware, Graniteware, Block Pulleys, Vintage Baby Shoes, Showcase Items, Hunting Knives
SPORTSCARDS
1965 Topps Norm Cash; 1962 Topps Whitey Ford; 1973 Topps Pete Rose; 1968 Topps Frank Robinson; 1969 Topps Harmon Killebrew; 1958 Topps Willie Mays & Duke Snider; 1959 Topps Johnny Podres; 1966 Topps Lou Aparicio; 1967 Topps Don Drysdale; 1954 Topps Harvey Kuenn; 1955 Bowman Brooklyn Dodgers Johnny Podres; Page of 1964 Topps Baseball; Page of 1970 Topps Baseball; Page of 1962 Topps Baseball; Page of 1955 Topps Baseball; Page of 1950's Topps Baseball; Page of 1960 Topps Baseball and More.
COINS
Silver Dollars (1880-S, 1921, 1901-O, 1922-S); Seated Liberty Dime (1885); German Reichs Bank Notes; 1854 Bank of Upper Canada; Walking Liberty Half Dollars; 1865 Indian Head; 1908 Barber Silver Quarter; 1865 USA 2-Cent Piece; Silver Certificates; Foreign Coins; (2) 1935 $1 Silver Certificates; 1913 Buffalo Nickel Type II; 1909 Barber Quarter; 1941 & 1944 Walking Liberty Silver ½ Dollars; (3) Large Cents 1916, 1918 & 1919; & More

---
PHOTOS BELOW ARE FOR THE FEBRUARY 4th AUCTION
Saturday, February 4, 2017 at 5:00 PM
ANTIQUES, COLLECTIBLES, HOUSEHOLD & MISC.
J Reynolds Acoustic Guitar w/Case; Frantz Hoffman Violin 2001 Size ¾ Made in Germany w/Bow and Zippered Case; Antonia Stradivarius Model Violin Cremonensis Faciebat Anno 1716 w/Bow and Case; Unmarked Violin w/Bow and Case; Sentry Fireproof Lock Box; Plastic Shelf Unit; Currier and Ives Platter; Sleeping Bag (New); Men's Boots (New); 18 Volt Cordless Drill /Driver NIB; 20 Volt Cordless Drill (NIB); Portable Auto Air Compressor; Men's Red Wing Boots Size 9½; Tommy Trout Singing Fish; 3"x21" Belt Sander (NIB); WOK Stir Fry Pan (NEW); Pioneer 202 Bounty Hunter Metal Detector; Tool Box w/Tools; Box of Frying Pans; 3 Step Stool; Cabin Cooker Gas Grill/Stove (NIB); Padded Folding Chairs; (2) Lawn Chairs; Small Wood Cabinet; Jewelry Box; CLASSIC 6 CD Changer/AM/FM Stereo/Dual Cassette (NIB); Deer Antlers; Rapala Fishing Lures (NIB); (2) 35 MM Cameras (NIP); Outers 22 cal. Gun Cleaning Kit; KWIK SET Door Hardware (NEW); Framed Whitetail Painting on Velvet; World Globe; Towels & Linens; Costume Jewelry; Key Wind Regulator Wall Clock; ECHO Chain Saw w/Case (NEW); Fly/Wasp Traps; Vintage Tabletop Radio; Small Outdoor Gas Grill (NIB); GE AM/FM Portable Radio; BRAUN Shaver (NIP); Decorative Sword; Misc. Hand Tools; Boxes of Misc. Tool/Shop Items; Clock Radio (NIB); STIHL Chain Saw (LIKE NEW); Fishing Bait Box; Hunting HOT SEAT; Hunting Socks & Misc; Golden Jubilee Tin Car; Vintage License Plates; Matchbox and Hot Wheels Cars; Old Postcards; Hellenic Glass; Oil Lamps; New Hunting Knives; Pocket Knives; Travel Clock; Kitchen Utensils; Showcase of Smalls; DVD Movies; Damascus Double Barrel Shotgun (Wall Hanger); Crossman Pellmaster .22 cal. Airgun;
COINS
MERCURY DIMES: 1926-S,1938-D,1940; BUFFALO NICKELS: 1935-D,1936-D,1937; WASHINGTON QUARTERS (ALL HIGH GRADE): 1935,1936,1938,1941-D,1942; BARBER HALF DOLLARS: 1900-O,1906-D,1907-O,1908-D,1912-S; LIBERTY NICKELS: 1891,1893,1897; LINCOLN CENT: 1928; MORGAN SILVER DOLLAR: 1902-O (HIGH GRADE), 1921-S (HIGH GRADE); PEACE SILVER DOLLARS: 1923 (HIGH GRADE),1925 (HIGH GRADE); (10) Different World Coins; and 50 More Assorted Coins to Be Choiced Out.
SPORTS CARDS
(1.) 9 -1961 Topps Tigers – All EX or Better w/Team Card, Manager Bob Scheffing, Norm Cash, Charlie Maxwell. This Team won 101 Games Yet Still Finished 10 Games Behind The Yankees; (2.) Tiger Announcer/Ex Player Jim Price 1967 RC as Pirate and a 1986 Tigers Scorebook/Program Autographed on Cover by Price (Sell Lot); (3.) 1981-82 Topps Bill Laimbeer RC as Clevland Cavalier; (4.) 3 Tiger Hall of Famers Fleer Cards – 1960 Mickey Cochran, 1961 Schoolboy Rowe and Hal Newhouser – Choice Out; (5.) 9 – 1962-1975 Chicago Cubs w/Leo Durocher, Don Kessinger RC, Ken Holtzman, Steve Stone, Sell as Lot; (6.) 1951 Bowman Danny Litwhiler (Longtime MSU Baseball Coach; (7.) 4 – 2008 Topps Mickey Mantle Home Run Cards #s 503-504-505-506 Sell as Lot; (8.) 9 – 1960's-70's Lion Cards w/1966 Philadelphia Team Card, Roger Brown, Charlie Sanders, Jim Gibbons, Sell as Lot; (9.) 1958 Topps Billy Martin; (10.) 1977 Topps AUTOGRAPHED Hall of Famer Jim Palmer; (11.) 3 – 1969 Topps Deckle Edge Tigers – Denny McLain, Willie Horton, Bill Freehan – Choice Out; (12.) 1988 Magic Johnson Fleer Super Star Sticker; (13.) 8- 1965 Tigers w/Jim Northrup RC, Gates Brown, Dick McAuliffe – Sell Lot; (14.) 1961 Topps Phil (The Vulture) Regan RC;

PICTURES BELOW ARE FOR THE FEBRUARY 11th AUCTION
Saturday, February 11, 2017 at 5:00 PM
Listing coming soon!

Saturday, February 18, 2017 at 5:00 PM
Listing coming soon!

Saturday, February 25, 2017 at 5:00 PM
Listing coming soon!