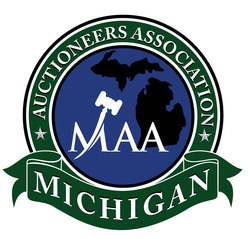 UPCOMING AUCTIONS
Scheduled Saturday Night Auctions (November - April)
NOTICE: All items sell "As Is" "Where Is" with no warranties expressed or implied.
Announcements at the auction will take precedent over any printed material.
We accept cash, credit card, and checks (checks from established local customers only).
All items must be paid in full the day of the auction and before any items leave the premises. Any items not paid in full before leaving the premises will be considered theft and prosecuted to the full extent of the law.
- PLEASE NOTE -
Pictures of each auction are posted online when we set up (the week prior to the auction date).
ANTIQUES - COLLECTIBLES - NICE HOUSEHOLD - COINS - FISHING & HUNTING
GIVE US A CALL IF YOU HAVE SOMETHING TO SELL!

---
Saturday, November 5, 2016 at 5:00 PM
HUNTING
Remington Model 870 Express Magnum; Remington 30.06 Model 742 Scope with Post & Crosshair; Assortment of 12 ga ammunition including Winchester, Remington, and Federal; Shoulder Mounts - (ready to hang on the wall) 10Pt. Whitetail; Antelope; Wild Boar; Full Turkey Mount; Several Leg Traps;
ANTIQUES, COLLECTIBLES, HOUSEHOLD & MISC.
China Cabinet; Small Fenton Vase; Candy Dish; Figurines; Fenton Bell; Vintage Oil Lamps; Currier & Ives Dishes; Vintage Books; Old Croquet Set; Christmas Items; Collector Plates; Blue Glass Candy Dish; Antique Trunk; Table Lamps; Blue Upholstered Chair; (2) Pump Organs; Vintage Eyeglasses; Old Toys; Cannon Coffee Table Cigarette Lighter; Blue Delft Items; Crockware Jugs; Old Puzzles; Structo Redi Mix Truck; Collector Spoons; Grizzly Table Saw (heavy duty);
COINS
1936 Washington Quarter (HIGH GRADE); 1937-D Washington Quarter; 1939 Washington Quarter (HIGH GRADE); 1939-D Washington Quarter (HIGH GRADE); 1940-D Washington Quarter (HIGH GRADE RARE); BARBER QUARTERS: 1892, 1897, 1908-O, 1911-S; 1945 MERCURY DIME (HIGH GRADE)
BARBER HALF DOLLARS: 1899, 1906-D, 1906-O, 1908-D; 1917 Type 1 STANDING LIBERTY QUARTER; 1927 STANDING LIBERTY QUARTER, 1882-O MORGAN SILVER DOLLAR; 1897 MORGAN SILVER DOLLAR (SUPER HIGH GRADE); 1925 PEACE SILVER DOLLAR (SUPER HIGH GRADE); 1927-D Lincoln Cent;
1909 LINCOLN CENT (Original Red Super High Grade); 1910 – 1927 Lincoln Cents;
Plus 50 Other Coins to Choice Out
SPORTS CARDS
(1)1960 Topps Al Kaline-AUTOGRAPHED, (2) 9 1960 Topps Tigers- all in EXCELLENT or better condition- w/Frank Lary, Frank Bolling, Rocky Bridges, etc. -sell as lot, (3) Four Detroit Lions cards- 1958 Topps Team; 1961 Topps Nick Pietrosante (Notre Dame); 1964 Philadelphia Dick "Night Train" Lane; and 1964 Wheaties (scarce) John Gordy- choice out, (4) 1976 All-time All-Star Babe Ruth, (5) 9 1969 Tigers w/ Mickey Stanley, Jim Northrup, Jim Price, Denny McLain, Mgr. Mayo Smith, etc.- sell as lot, (6) 1959 Topps Tiger Teamcard, (7) Five Topps Willie Horton cards- 1965, 1967, 1969 All-Star, 1974, 1975--choice out, (8) 1979 Topps San Diego Padre pitcher Randy Jones- 2 time 20 game winner & Cy Young award winner- AUTOGRAPHED, (9) 9 1960s & 1970s Detroit Lions w/ Jim Gibbons, Greg Landry, Mike Lucci, Wayne Walker, etc.- sell as lot., (10) 1977 Topps Mark Fidrych rookie card., (11) 1959 Topps Pitchers Beware w/Al Kaline & Charlie Maxwell, (12) 4 Ty Cobb cards- 1973 All-Time Batting Leader; 1976 All-Time All-Star; 1979 All-Time Great, & !980 Renatta-Galasso--choice out, (13) Former Tiger pitcher Joe Coleman 1979 Topps AUTOGAPHED card (as Toronto Blue Jay), (14) 9 1979 Topps Tigers w/Mark Fidrych, John Hiller, Steve Kemp, Alan Trammell, Jack Morris, etc.-sell as lot

---
Saturday, November 12, 2016 at 5:00 PM
Listing coming soon

---
Saturday, November 19, 2016 at 5:00 PM
Listing coming soon

---
Saturday, November 26, 2016 at 5:00 PM
Listing coming soon