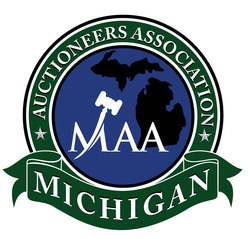 UPCOMING AUCTIONS

Scheduled Saturday Night Auctions (November - April)
NOTICE: All items sell "As Is" "Where Is" with no warranties expressed or implied.
Announcements at the auction will take precedent over any printed material.
- PLEASE NOTE -
Pictures of each auction are posted online when we set up (the week prior to the auction date).
ANTIQUES - COLLECTIBLES - NICE HOUSEHOLD - COINS - FISHING & HUNTING
GIVE US A CALL IF YOU HAVE SOMETHING TO SELL!
---
---
ITEMS PICTURED BELOW ARE SELL THIS SATURDAY, FEBRUARY 13 at 5:00 PM

Saturday, February 13, 2016 at 5:00 PM
ANTIQUES & COLLECTIBLES
Glass and Carnival items: Fenton Cranberry Vase, Fenton Basket, Small Fenton Bowl, 2 Silver Crest Bowls one Green, Lead Crystal Basket, Art Glass Basket, Blue Footed Smith Bowl, 2 Hand Painted Bristol Ware Vases, 50s Powder Dish, Frosted Glass Art Deco Oil Lamp, Currier & Ives Oil Lamp, Flat Advertising Liquor Glasses, Flat Mackinac Bridge Glasses, Pottery and Porcelain items: Blue Hall Teapot, 2 Royal Copley Ducks, Hummel Figurine, Budweiser Steins, Old Large Yellow Ware Pitcher with Scenery, Nice Old Assortment of Japan Porcelain (creamers, sugars, powder dish, vase, teapot, celery tray items), Japan Lady and Man Figurine, Napco Lady Figurine Planter, Lladro Star Angel Figurine, Panther Figurine, Irish Man Figurine, Goebel Swan, Old Goldscheider Madonna Figurine, Bavarian Child & Pets Figurine, Japan Woman Planter, Group of Dog Figurines, Group of Bird Figurines, Antique Post Cards, Vintage 1950's table Cloth; Vintage Linens – Doilies, Pillow Cases, Etc.; (2) Pocket Knives-Barlow & Case XX6235½; Vintage Singer Sewing Machine Manual & Glass Pc.; Gene Baldwin Threshing Sign; Quantity of Antique Aprons, Hankies, Doilies, Table Linens, Material, and More!
HOUSEHOLD & MISCELLANIOUS
Coleman Electric Lamp, Domino Game Set, Yahtzee Deluxe Game Set, Liberty Bell Bicentennial Bookends, Blood Pressure Kit, Oreck Sanopathic Vapor Machine, Flat Winter House Displays, Dual Screen Mobile DVD Players In Box, Dexterity Game, Nice Thomas Kinkade Stationary Set, Flat of Old Alligator Purse, Wallets etc. Nice Colonial Wood Shelves, Small Corner Computer Stand, Standing Jewelry Cabinet, Casey Mears Plasma Motion Clock; Black & Decker Quantum Electric Drill; Boxing Head Gear; Nice Heavy 18"x22" Oval Mirror; Exhaust Vent for Rood Ridge; (2) 1½ Ton Hydraulic Jacks; Portable Bench Grinder; Playmate Cooler; (2) Ball Mitts; (2) Cash Drawers;
COINS
Roll of 50 Indian Heads; (10) Liberty Nickels (8 early); (8) Buffalo Nickels; (28) Mercury Dimes (20 early); (7) Silver Washington Quarters; (6) Walking Liberty Half Dollars; 1952-D Franklin Half Dollar (HIGH GRADE); 2001 Silver Proof Kennedy Half Dollar; (5) 40% Silver Kennedy Half Dollars; (8) Proof Grade Kennedy Half Dollars; (10) MORGAN SILVER DOLLARS (HIGH GRADE); (7) PEACE SILVER DOLLARS (HIGH GRADE); (4) Uncirculated Blue Pack Eisenhower Silver Dollars 1971, 1972, (2) 1974; (2) 1976 3 Pc. Bi-Centennial Silver Proof Sets; (5) Foreign Coins; 1863 Civil War Tokens;
SPORTS CARDS
(1.) 1977 Topps Mark Fidych RC & Nov. 1976 issue of baseball Digest w/ Fidrych on cover--choice out;
(2.) 1979 TOPPS AUTOGRAPHED ex 1984 Tiger Darrell Evans (as San Fran Giant); (3.) 1964 Mickey Lolich RC; (4.) 8 1974-75 Detroit Red Wings w/Team Leaders, Red Berenson, Alex Delvecchio, etc. and 1990-91 Sergio Federov RC- sell as lot; (5.) 4 Topps Billy Martin as Tiger cards- 1958 (as player), 1971, 1972, 1973 (as manager)- choice out; (6.) 1970 Topps AUTOGRAPHED Detroit Lion Alex Karras; (7.) 4 1960 Fleer All-time Baseball Greats- Cap Anson, Johnny Evers, Lefty Grove & Hack Wilson- all HOF members- sell as lot;
(8.) 3 1954 Topps Tigers- Harvey Kuenn RC, Schoolboy Rowe, & Ray Boone- choice out; (9.) 9 - 1966 Tigers w/ Mickey Stanley RC, John Hiller RC, Ray Oyler, Bill Freehan, Joe Sparma, etc. -sell as lot; (10.) (7) UNOPENED 3-packs of 1991 Upper Deck/McDonalds- possible Michael Jordan, Shaqille O'Neal, Isiah Thomas, Joe Dumars, etc.- sell as lot; (11.) RARE 1969 Dell Tiger Al Kaline; (12.) 1973 AUTOGRAPHED Tiger Jim Northrup


---
Saturday, February 20, 2016 at 5:00 PM
ANTIQUES, COLLECTIBLES, HOUSEHOLD & MISCELLANIOUS
Steamer Trunk; Depression Tooth Pick Holder; Cobalt Blue Hatchling Chick on Egg Nest 1950s; Vitrock Vase 1940s Orange; 1 FULL Box Winchester Varmint HV Small Game Jacketed Hollow Point 22 WIN MAG 30 GRAIN, 2250 FPS; Craftsman Multi drawer Tool Box; Small Tool Box; Metal Shelf Unit; Fun Time Work Bench (MIB); Snap Tite Revel 77 Chevy Monte Carlo Model Kit; Biker Teddy Precious Bear; Wreck it Ralph 11 inch Action Figure; Apex Helicopter MIB works toys edu/tech; Mirror Ball 30 watt Green Lens Spot Light; Limited Edition Lalaloopsy Rosy Bumps and Bruises (MIB); Metro Force Police Station; Skill Craft Chemlab 3; American Football Shadowbox; Movie The Anchor Man Wall Art; Daisy Shooting Glasses (NIP); Duncan YoYo Competition Grade (NIP); Vintage Barbie Bike Horn; Helicopter Construction Kit; French Read Along Record Set; Coke Bottle Tin; Justin Bieber Mini Collector's Figure; Turbo Spin Mini YoYo Key Chain (NIP); Old Navy Monkey Bank; Ken Griffey Jr Uniform Top Collectible; Larry Get R Done Accidental Lure Figure; Dog Training Collar; Turbo Turtle Original Racer (NIP); Jack Daniels Collector's Tin; Basketball Figure; Tiara Exclusive URN with Lid; NASCAR Flask; Peanuts Advertising Tin; Coin Glass Fostoria Clear Candy; Smith Moon & Stars Bowl Amber; Spiderman Watch (NIP); 1985 Precious Moments Girl w/Plate of Cookies; Beatle's Yellow Submarine Ornament w/Tag; Pilgrim Glass Pitcher; Florida Flower Vase; Gerity 4 Leaf Clover 25th Anniversary 1982 Original Box; House of Blues Shot Glass (NIP); Holly Hobby "June Loveliness" w/Stand; Royal Ann S&P; Milk Glass Gypsy Pot; Precious Moments 50 Year's Together; Crystal Candy Dish; Hobnail Green Fenton; Levon Worth Collector's Mini Mug; Rookie Car Jimmy Johnson Limited Diecast; Caramel Honey Opalescent Hobnail Fenton Compote; 24% lead Crystal Avon Bell; Stone Art Marbell Belgum Infant Figure; Seattle Space Needle Crystal Souvenir; Fenton Silver Crest Compote; Lonewolf Indian Sculpture by Steven Herreo 1990; Set of 2 Classic Street Car (NIP); Cleveland Browns Ornament; Lighted Rimless Magnifier; Porky Pig Plush w/Tags; Boyd's Bear Alexandra & Belle Telephone (MIB); Mickey Mouse Plush w/Tags; Miss Ellie's Collection Boy & Girl Plush Bear Set; Dale Earnhardt Sr/Jr Plush Bear Set, Funkeys Starter Kit (NIP) Stoneware Wagner Village Pottery; Detroit Redwings Mug; Floral Vase Green; Set of 4 Frankoma Coffee Mugs; Big Ben Mild Cigar Tin; 3 Pc. Strainer Colander w/Wood Masher; Hanson 25 lb General Household Scale; Detroit Lions Hard Hat; Hotwheels Snore Slammer AM/FM Clock Radio; Mickey Mouse Rug; Nike Air size 6.5 in Box; Monkey Crossing Sign Factory Sealed; Simbas Pride Litho; Book Staffing & Organization Hard Back; Legal Environment Today Hard Back Book; Wall Sign of Road Signs; Mega Blocks with Pink Car; Desk; Chair; Lamps; Misc. Home Décor Items; Kitchen Ware; & More

---
Saturday, February 27, 2016 at 5:00 PM